WRITTEN BY: RENZNEIL ROBLES
For caffeine enthusiasts, the aromatic experience and the bittersweet sugar rush of coffee occupy a special place in their hearts. It's the fuel that kickstarts their mornings, the spirit that enlivens their afternoon, and their comforting companion in times of slumps at night.
Indeed, it is not an exaggeration to say that coffee is vital to most people's daily lives. But what happens when the craving strikes and you can't visit your favorite shop? To worsen the struggle, you yearn for a new flavor or want something unique to satisfy your spontaneous taste preferences. That's when being able to whip up your coffee creations becomes a game-changer!
Luckily, Achievers™ Coffee Mix is the convenient answer to savor an excellent cup of goodness anytime, in an instant. In partnership with Figaro Coffee House, it is crafted from premium selected coffee beans that guarantee a rich taste and enticing aroma.
Here are easy recipes you can follow using Achievers™ Coffee Mix:

Classic Hot Mocha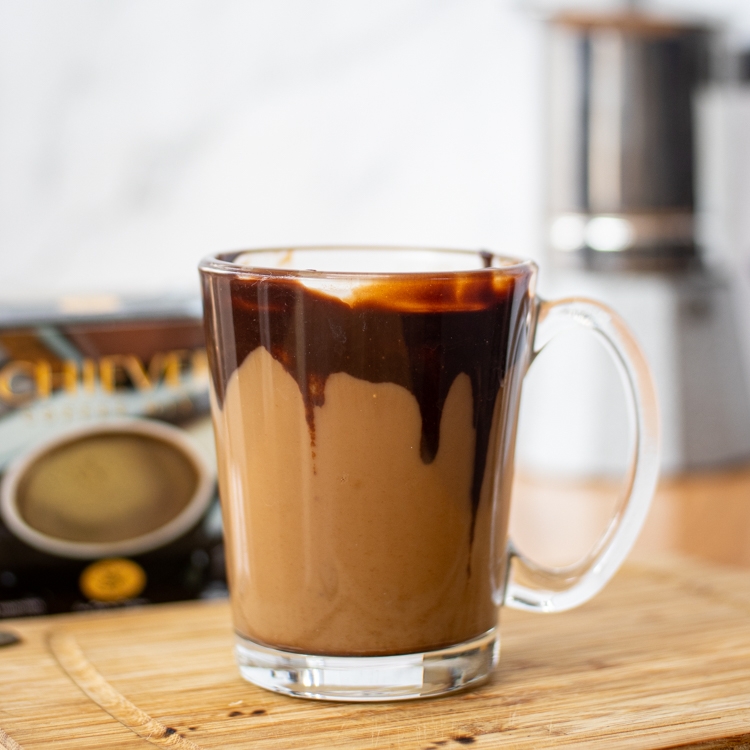 The bold punch of coffee and the richness of chocolate is a tickling combination that makes up mocha, the flavor that brings us the best of both worlds. And when served hot, one cannot help but sip until they are left wanting more. However, this taste of heaven is in the palm of your hands.
You only need one sachet of Achievers™ Coffee Mix, 20ml of Hershey's chocolate syrup, and 150ml of water. Integrate all the ingredients and make sure to dissolve everything properly. Pour the mixture into your best mug pick, and that easy, your irresistible delight is ready to serve.

Icy Mocha Latte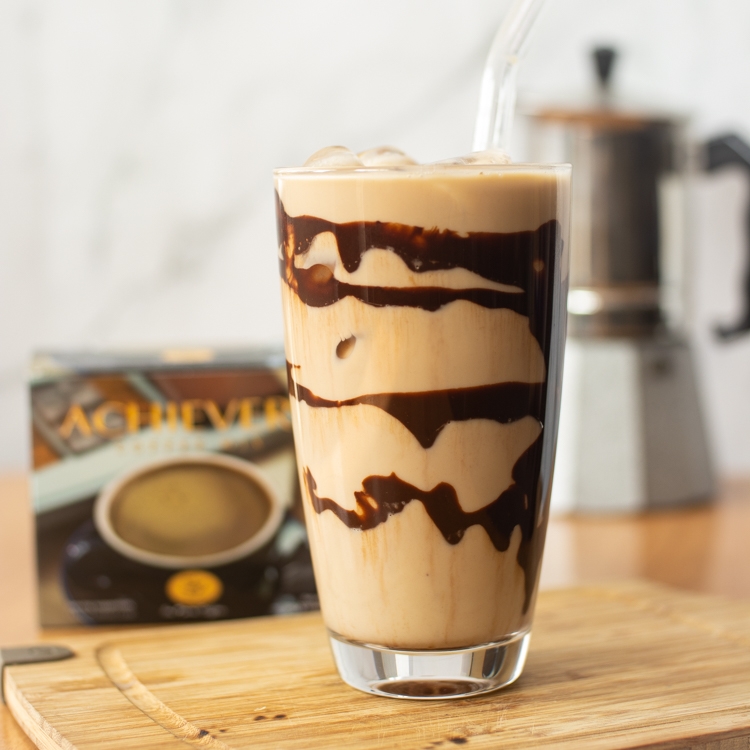 For those not into hot beverages, the Icy Mocha Latte might be the perfect choice to fulfill that frosty little demand. Don't worry; it's the same coffee, chocolate, and milk goodness formula but with an exciting, cold twist. Just remember to avoid putting too much ice, or else you can suffer brain freeze!
To get started, grab a sachet of Achievers™ Coffee Mix and dissolve it with hot water and 20ml of Hershey's chocolate syrup. Once combined, lay some ice cubes in your highball glass before pouring coconut milk into the mixture. Stir and serve with your choice of pastry on the side.

Nutella Iced Coffee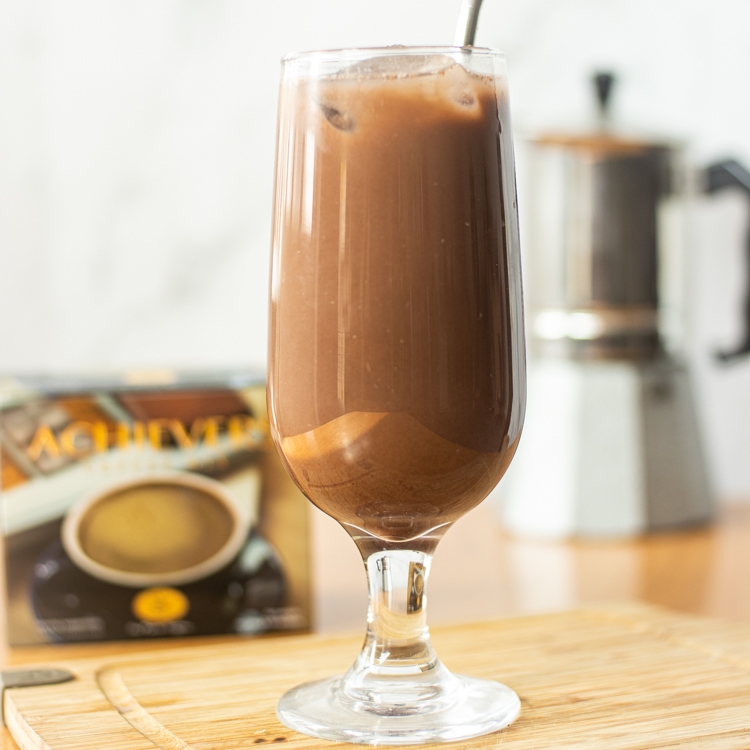 If the idea of sipping on an iced coffee drink entices you as much as the thought of munching on a yummy spoonful of Nutella, we got your back. With our refreshing resolve to make a fusion of these two, there is no need to put your decision-making skills to the test.
Prepare for bliss by blending a sachet of Achievers™ Coffee Mix and two tablespoons of Nutella in your cup of hot water. With the ingredients thoroughly mixed, add in your ice cubes and 100ml of chilled milk. Giving it a bit more stirs will prepare your taste buds for this harmonious treat in no time.

Bonus Recipe: Banana Chocolate Smoothies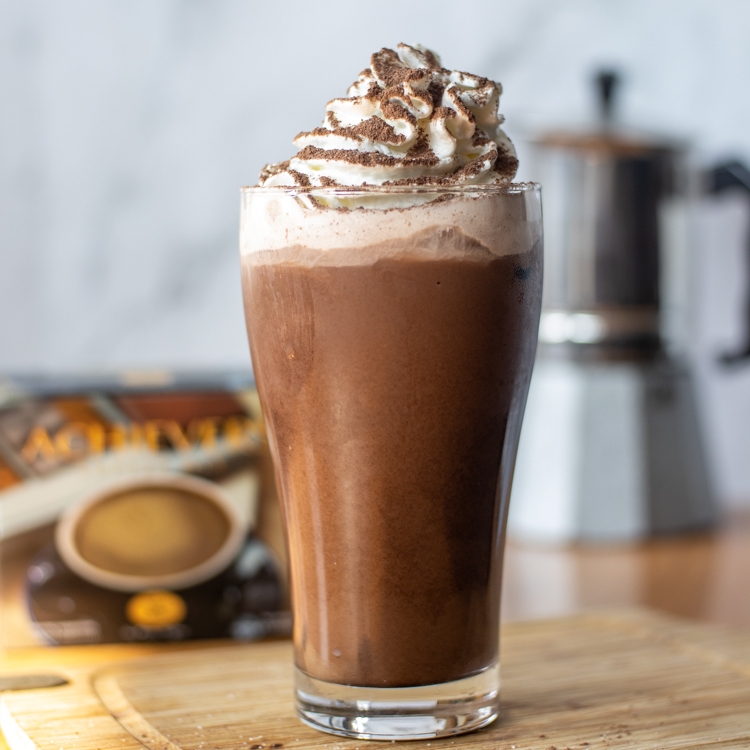 If the above coffee recipes do not impress you, the revelation of Banana Chocolate Smoothies could be worth embracing. This velvety treat presents a non-caffeine alternative and instead offers the wholesome union of bananas and rich cocoa in one drink.
Begin by putting a sachet of Achievers™ Cocoa Mix, one piece of chocnut, 100ml cup of fresh milk, two bananas, and ice cubes into a blender pitcher. Blend until the mixture smoothens before pouring into a glass. Top with whipped cream, banana slices, and chocolate powder for the final flourish.