Is your skin nutrition on point? Just like the body has nutritional needs to be healthy, so does the skin for a healthy look! So, if you have skin (and we'll go ahead and assume you do) then there are a handful of nutritional requirements you need to look your healthy best, no matter your skin type, skin tone, or age.
And since skin's needs are interconnected, leaving even one need unmet will keep skin from looking as healthy as it can be. Equip yourself with skincare that works like supplements for skin and fulfill these five things to see visibly healthy skin with a smoother, revitalized, and radiant look.
Requirement #1: Cleanse and Purify. A lack of purity in your skin nutrition shows up as skin irritation. And once skin irritation starts, it can turn into an ever-worsening cycle of irritation – and significant visible damage. Keep skin purity at its peak with a Defense Barrier that's clean, calm, and free of skin-stressing irritants. Start with makeup removers and gentle cleansers that remove dirt, excess oil, makeup, and other impurities (like pollutants) before they can stress skin out. We recommend the Artistry Skin Nutrition™Micellar Makeup Remover and Cleanser, or Artistry™ Skin Nutrition Renewing Foam Cleanser for calm, smooth skin.
Requirement #2: Balance. Skin has both good and bad bacteria. When balanced, your skin lives in healthy harmony. But out of balance, skin can progress to a state of chronic irritation. Strengthen your microbiome and fill your skin's nutritional need for balance with toners for a smoother, radiant,healthy-looking complexion. Check out Artistry Skin Nutrition™ Renewing Softening Toner with White Chia Seed Gel to provide vital support to skin's microbiome for added strength, stability and balance.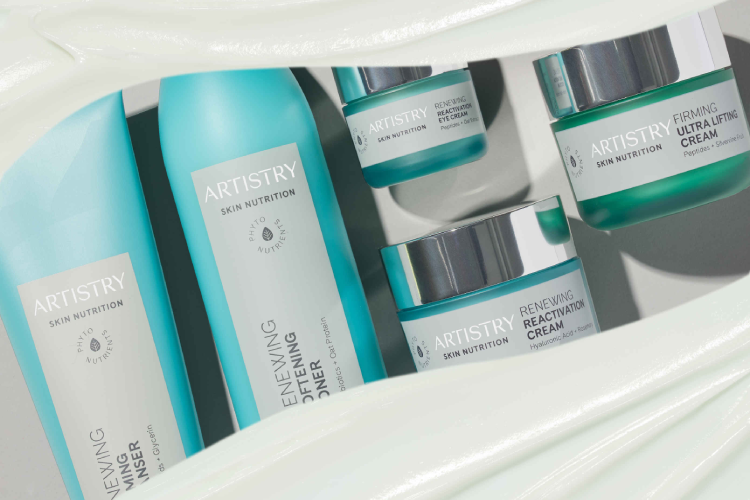 Requirement #3: Rebuild. Skin's key support system is packed with proteins to help support a flexible, plump skin surface. But skin loses its ability to 'bounce back' overtime. Safeguard skin's support system by protecting what's there and helping to rebuild what's missing with antioxidants, protein boosters,and more in your skincare. We recommend Artistry™ Skin Nutrition Renewing Eye Cream or the Artistry™ Skin Nutrition moisturizers to strengthen and repair skin's support layer to increase resilience, elasticity and firmness.
Did you know we have two?Choose between a firming or hydrating moisturizer!
Requirement #4: Moisturize. Skin needs moisture to keep water and nutrients in. That's the job of the skin's Moisture Barrier! If your skin is dry, scaly, red, or irritated, it's a sure sign your moisture barrier is compromised. Infuse skin with the nutrients and emollients it needs to help keep the moisture barrier strong and secure – and ensure skin hydration stays put. Add a Face and Eye Moisturizer as an essential part of your skin routine to saturate skin with lasting hydration. We recommend Artistry Skin Nutrition™ Firming Ultra Lifting Cream or Artistry™ Skin Nutrition Renewing Reactivation Cream that floods skin with 24-hour moisturization.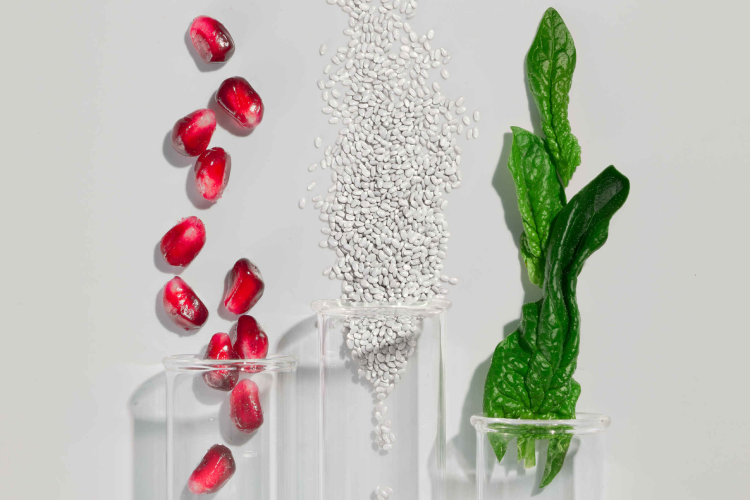 Requirement #5: Protect.Give skin powerful protection against the environment with sunscreen! SPF and antioxidants help skin's environmental barrier fight the aging effects of the full light spectrum — UV, blue light, infrared (IR) – and neutralize oxidative damage, especially from pollution. That means less discoloration, uneven skin tone, and the appearance of premature aging. Reach for moisturizers that provide layer after layer of protection for visibly healthy skin. Did you know that the Firming Ultra Lifting Cream and the Renewing Reactivation Cream can also do the job? This is because they're not just built for your skin's moisture barrier – they're made with Nutrilite™-grown Pomegranate! This helps protect skin from six major types of pollution and keeps dry, delicate skin soothed, calmed, and strengthened.
When it comes to your skin nutrition, it's not just one element that's important (such as hydration, or reducing the look of lines), it's all of them! So, if your skin is lacking, check off all the boxes above with a simple skincare routine using Artistry Skin Nutrition™ products that build on and reinforce all five requirements for a powerful effect. Enjoy healthy-looking skin thatis hydrated, smooth and firm, blemish-free, and even-toned at any age, at every stage.