Simply, ask your new customers (and yourself) what their health and wellness goals are. Want to be healthier and more beautiful? Want to ignite your weight loss resolution? How about a healthier home and family?
Then, show them our precise product solutions based on their lifestyle.
Finally, encourage them to sustain their healthier, more beautiful lifestyle through our new program!
All they need to do is complete the 3-month program and reap the ultimate rewards after! Perfect for their healthier, more beautiful 'millennial mom' lifestyle!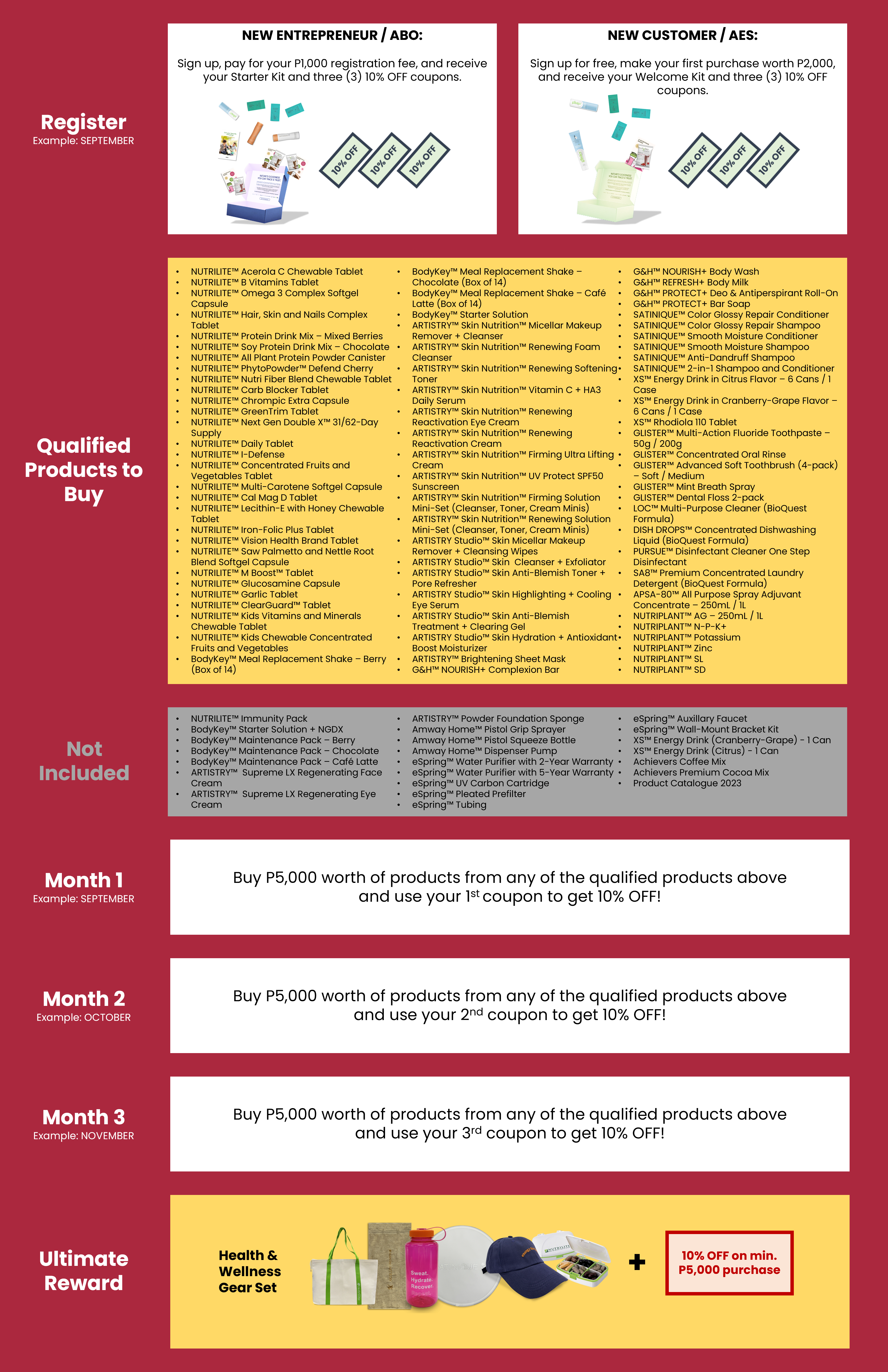 FREQUENTLY ASKED QUESTIONS:

Q: Am I eligible to join this rewards program with new mechanics?
A: If your registration date falls within September 1 – December 31, 2023, then you are 100% eligible!

Q: How many coupons will I receive?
A: You will receive three (3) coupons regardless if you're a New Entrepreneur or Customer.

Q: How will I receive my three (3) coupons?
A: If you're a New Entrepreneur, you will receive your coupons immediately after successful registration and payment of P1,000 registration fee. If you're a New Customer, make your first purchase worth at least P2,000 after signing up and you will immediately receive your coupons in your account.

Q: What is the validity of my three (3) coupons?
A: Your three (3) coupons will be valid for use within ninety (90) days from the date you received them. This means that on your 91st day in Amway, any unused coupon will expire and disappear in your account.

Q: Can I transfer a coupon to another account?
A: All coupons issued in your account are non-transferrable and non-convertible to cash.

Q: Can someone else access or use my coupon on my behalf?
A: You may use your coupon for your Personal Orders or Group Combination Orders with your uplines/downlines. You may also ask your upline to purchase on your behalf via Volume To ordering and use your coupon if in case you are in an area where you cannot access your account.

Q: Can I use my 10% OFF coupons in conjunction with already-discounted items under the profile that I want to purchase from?
A: No. You can only use your 10% OFF on regular-priced items within the list above. If you apply the coupon before checking out, the existing promotions will be removed and the 10% OFF will be applied.

Q: I'm having a hard time because most of the items I want to purchase are discounted during the whole month. How can I use my coupon and finish the program?
A: Don't worry – just add to cart the items (regular or sale) that you want to purchase. Before checking out, make sure to apply your 10% OFF coupon so that it will remove the existing promotions and apply the 10% OFF for you to finish your program in 3 months.
If you like the month-long promos more than your 10% OFF coupons, that's okay – you can use your coupons next time as long as they are still valid and not expired.

Q: One of my coupons expired. Can I still finish the program and just buy P5,000 worth of products from the list to get the ultimate reward?
A: No. It is important to use the discount coupons per month before expiry to maintain your eligibility for the ultimate reward.

Q: I have completed the program. How do I redeem my Ultimate Reward?
A: The Health & Wellness Gear Set is available for claiming starting the 10th of your 4th month. For example, if you start the program within September and finish it during your 3rd month (November), you may start claiming your Ultimate Reward from December 10 onwards. This will give Amway Philippines enough time to validate your purchases. We will enroll a coupon in your account that you need to apply in your next purchase so that your Gear Set will be shipped to you along with your purchases.
Rest assured that we are proactively working on finding faster solutions that will enable us to provide you your Ultimate Rewards set once you finish the 3-month program.