Jun Escobar and Grace Aguilar are an emerald ABO couple residing in Minglanilla, Cebu. Aside from engaging in the Amway business, Grace is also an obstetrician-gynecologist (OB-GYN). Meanwhile, Jun is a lawyer and retired teacher. They've dabbled in travel vlogging as well!
Join us as we explore the beginning of Atty. Jun and Dr. Grace's Amway story, their tips for aspiring entrepreneurs, and more.
The Start of a Journey
It wasn't always a smooth sailing journey for this tandem. At first, Atty. Jun was hesitant when the business idea was pitched to him back in 2006. Back then, he felt that being an ABO didn't match his lifestyle and career as a lawyer. His limited experience with direct selling also influenced his perception.
Eventually, the trust and rapport that he had built with Dr. Grace, along with her tireless efforts, made him open to listening to a business presentation. To help him decide, she gave him 5 to 6 bottles of Nutrilite™ supplements for free! After all, using the products yourself is an excellent way to assess their quality.
Through his exposure to the Nutrilite™ vitamins Acerola C, Omega 3 Complex, Cal Mag D, B Vitamins, and Lecithin-E with Honey, he found that the products were to his liking. Aside from getting to use the products, learning about Amway's free travel incentives got him interested as well. He finally decided to join the business during a trip to Jakarta, Indonesia, where the couple was invited by their upline to an Amway event.
Finding Their Groove
When Atty. Jun and Dr. Grace began working together, they sometimes had varying ideas on how to run the business. They sorted out their differences through continuous learning and leaning on each other's strengths.
For instance, Atty. Jun recommended some business books to his partner. Reading helped them grasp the advantage of having an ongoing income. Being open to learning new things also helped them grow together and develop a common goal.
They also learned to rely on each other's strengths and used them to divide tasks between themselves. While Dr. Grace excelled at selling and highlighting the products' features, Atty. Jun is best at building relationships with other people and encouraging them to join the business. Their combined efforts make them more effective at finding prospects together.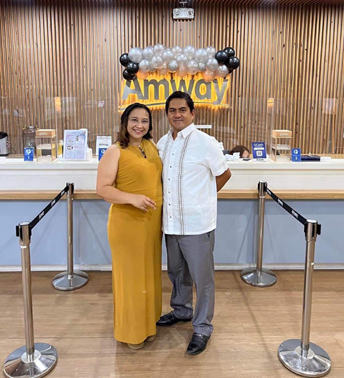 Overcoming Obstacles

Once the two of them have smoothed out their working relationship, it was time to face the challenging demands of the business. For starters, they had to make out-of-town trips and visit other people's houses to present the products to potential customers. They travelled by sea to reach neighboring provinces.
The partners speak about the difficulty of getting back home after a full day of going from house to house. "Sometimes we'd wait for a ride at the pier at 6 pm, but then the boat gets delayed and arrives at around 11 pm or midnight. And we'd get back to Cebu at 1 am, then reach our houses at about 2 to 3 in the morning."
The gruelling hours almost made the duo want to stop. Wanting to be eligible for the free travel incentive every year kept them going. Dr. Grace shares, "To succeed in this business, you have to identify your goal and keep working towards it." This couple's dream is to see the world. The Amway business enables them to do that through the incentive program, where they get to enjoy all-expense-paid trips along with their loved ones.
Aside from the challenges of doing house-to-house visits, finding prospects and persuading them to join was equally tough. Dr. Grace met resistance from her fellow doctors when she tried to introduce the business to them, so they didn't sponsor any doctors for the first 3 years. However, some of them opened up to the idea once the couple's earnings stabilized after 3 years of hard work.
Recovering from Injury
Their business was in full swing when things suddenly came to a halt—Dr. Grace had an accident, which fractured her left ankle. "The doctor said that I had to stay home for 6 months and that there was a possibility of not being able to walk again." Given the situation, she informed Atty. Jun that she'll have to quit the business.
What happened next was something that surprised them both. With his partner on a break, Atty. Jun had to manage the business alone. "To find new prospects, I travelled to Surigao, Samar, and Bohol, just to name a few." His persistence paid off and he was able to sponsor more than 50 people! When the next month came, they expected an income dip due to the accident, but they were able to keep it within the same range.
Dr. Grace's injury eventually healed with the help of an implant, and soon enough, she was back in the game. This experience intensified their drive to succeed in Amway.
Partners for Life
Years of working together have closely bonded the two, and eventually, they decided to marry. They've always treated each other with tenderness and utmost respect, but there was no formal declaration of love.
Dr. Grace talks about the time they considered getting married, and Atty. Jun's unconventional proposal. "He left a marriage license application form with my secretary, so I could go over the document and sign it. Upon seeing the form, I immediately wondered who it was for, then realized that it was for Atty. and me! Then later that afternoon, he asked the question: Would you like to marry me?" Once they've made up their minds, they went to the mall to buy their wedding rings.
Dr. Grace's mother was delighted when she heard the news! She herself was happy because she has always wanted a God-fearing man, who will be loved by her family. On the other hand, Atty. Jun shares that back when he was a law student, he has dreamed of marrying a doctor. Thus, they're glad to have found the right life and business partner in each other.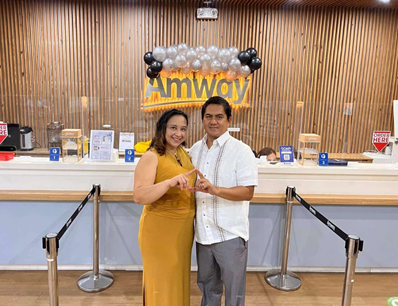 Advice to Newbies
In their 16 years of doing the business, here are some nuggets of wisdom they've caught along the way. Dr. Grace says, "Set goals and plot a timeline of when you want to achieve them. Doing this can help you track your progress."
She also emphasizes the importance of patience and dedication because success doesn't happen overnight. "Pay attention to the first few years of your business, so it can steadily grow."
Atty. Jun adds, "Be teachable. Your upline is there to help you as long as you're willing to listen. You should also take advantage of the training sessions given by Amway."

He says that an entrepreneur should be willing to evolve as well. "Along with learning new things comes the willingness to move out of one's comfort zone. A passion for learning combined with adaptability to change will set you up for success."
Visions for the Future
Just as Amway Philippines is celebrating its 25th year, we asked this duo about what they're looking forward to in the next 25 years. Atty. Jun responds, "We hope to continue travelling the world together and enjoy financial freedom." Dr. Grace adds, "We also want to achieve the diamond pin!"
Aside from their personal goals, this couple also wants to live a significant life, and they're fulfilling that by helping the less fortunate through the Mary Lord charity. In the next 5 years, they plan to expand their charity work by building a foundation that takes care of the elderly, who lack financial resources and can no longer tend to themselves.