We Mean (Women) Business: Surviving Digital
Empowered Women Network (EWN) is one of the inclusion networks formed by Amway's HR Department to promote Diversity and Inclusion culture. EWN'S mission is to support women realize their full potential by encouraging, enabling, and facilitating their active engagement in all aspects of life, empowering them to be equal contributors in their family, organization, and their communities that will contribute to long-term positive change. This aligns perfectly with the Empowerment Program of Amway CSR.
The EmpowHer: Juana Earn Project is on its 3rd year. Every year, Empowered Women Network and CSR works together to provide skills training and health and wellness talks for women from underprivileged communities. This project started in 2020 during the height of the pandemic and was conceptualized initially to help single mothers and stay-at-home moms to develop skills that will help them augment family income that they can do at their leisure time. The outreach activity was very timely for the Women's Month Celebration because the talks were all about women— women's rights, health developing new skills/entrepreneurship.
Last March 21, the Amway CSR team and the Empowered Women Network team celebrated Women's Month with an outreach activity in Navotas billed as WeMean (Women) Business: Surviving Digital Era. The 3-hour program has 2 parts: the first part is the Mompreneurship Series and tackled the topic ONLINE BUSINESS HACK FOR STAY AT HOME MOMS with one of the Amway staff volunteers sharing how she started her online business, her experiences with it, and gave tips to those who are interested to venture into social selling.
The second part was helmed by one of the Amway staff volunteers who is a health advocate and a member of the Empowered Women Network, Diana Bigayan. She discussed the importance of women's rights, reproductive health, and different supplements fit for women. The fifty female beneficiaries were also given Nutrilite™ Achievers Choco Drink and XS™ Energy Drink as a token of appreciation for attending the activity. Amway's Corporate Affairs Executive, Ms. Rowena Rea, also had a talk about the importance of women's contributions to our society.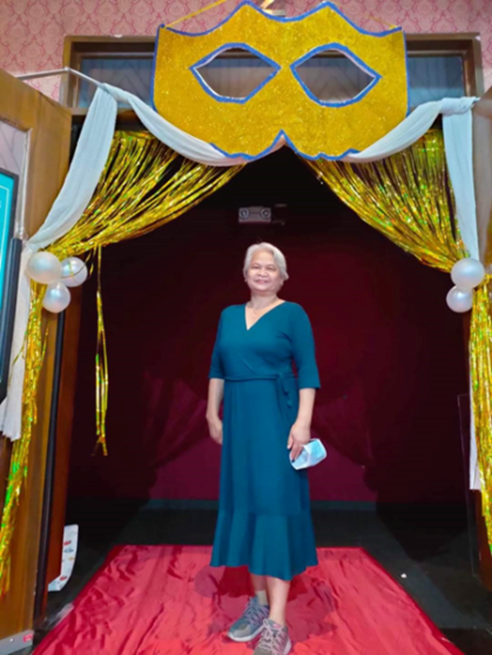 Myrna, a 59-year-old mother from Navotas City, found the activity informative and fun.
"Natutunan ko na ang pagiging babae ay hindi minamaliit, dahil ang kakayahan at talento ng isang babae ay hindi matatawaran. Pwede ring kumita o gamitin ang social media para magsimula at i-promote ang maliit na negosyo."