Cris Siglos, a Leaders Growth Solution Sr. Specialist at Amway Philippines, looks back on the start of his involvement with Amway's Corporate Social Responsibility (CSR) Team and its Power of 5 (PO5) initiative. The PO5 program aims to combat child malnutrition by providing hot and healthy meals to children in poverty-stricken areas in the country.
His first exposure to the CSR Team was when he joined a PO5 feeding activity in 2019. That event exposed him to the struggles of the less fortunate and widened his perspective. "That experience encouraged me to be empathetic to the plight of the marginalized. On that day, I decided to do what I can to help lighten their load," Cris shares.
Through his continuous involvement with Amway's CSR projects, he eventually became a CSR Team Leader. This position widened his capacity to help people in need. For instance, it enabled him to organize and participate in more feeding programs and donation drives. The beneficiaries of these events include hospitals and public schools.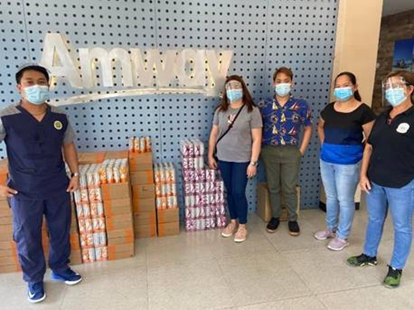 Cris says that he and his CSR teammates feel joy and contentment each time they reach out to those in need. "We can see through the eyes of the people that we have given them a glimmer of hope." Sharing the gift of hope inspires him to continue uplifting lives one community at a time.