Nutrition month is celebrated every July, and from 2018, Amway Philippines hosts a yearly Nutrilite Protein Meal Feeding Program to mark this event. The Power of 5 (PO5) Campaign was launched in 2017, and the feeding program was one of the projects under this initiative.
This program caters to 4-7 year olds and their families. And it lasts for 60-120 days. The Nutrilite Feeding Program rolled out in 2018. The event was simultaneously held in 4 Areas: National Capital Region (NCR), Cebu, Cagayan de Oro (CDO), and Davao, and reached 250 children.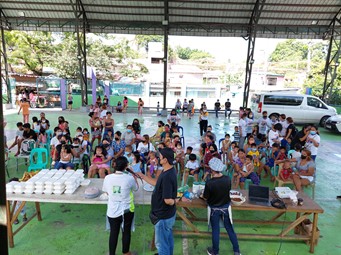 The pilot run went smoothly in Cebu, Davao, and CDO with the help of the Department of Education (DepEd). For NCR, Amway partnered with Compassion Philippines. In Davao, the partnership with DepEd continued from 2019 to 2021.
Meanwhile, Amway partnered with non-governmental organizations (NGOs) to sustain the feeding program in the other 3 locations. Specifically, the Nutrilite Protein Meal Feeding Program 2021 was held in CDO in partnership with Gugma sa Kabataan, Rise Against Hunger Philippines for Cebu, and Food for the Hungry Philippines for NCR.
For 2019 to 2021, this nutrition campaign supported 625 undernourished children and their families, and for 2022, the Amway CSR Team partnered with Food for the Hungry Philippines to hold a 60-day supplemental feeding program.
The kickoff event happened on July 19, 2022 in Friendship Village Resources of Norzagaray, Bulacan. The program catered to 50 malnourished children in the community. This brings the total number of beneficiaries to 925 from 2018 to 2022.
The opening event included a cooking demo courtesy of Amway volunteers led by ABO Luisa Arceo. In this segment, the volunteers presented ways to incorporate the Nutrilite™ All Plant Protein (APP) Powder and Nutrilite™ Soy Protein Drink Mix – Chocolate Flavor into yummy and healthy meals for little ones. At the end of the demo, the kids' guardians got an intro to making Nutrilite™ APP and Nutrilite™ Soy Protein Choco infused chocolate graham balls and spaghetti.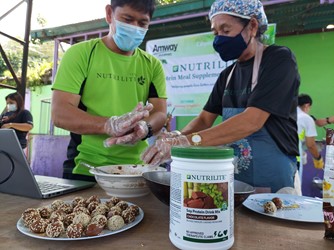 After getting a taste of the spaghetti and choco balls, the kids got to listen to the story of Boboy, ang Batang Mapili sa Pagkain (Boboy, the Picky Eater). This story introduced their young minds to the concept of a balanced diet which consists of Go, Grow, and Glow foods.
Go Foods are energy-giving carbohydrates, like rice and bread. Meanwhile, Grow Foods are protein-rich foods, such as eggs, milk, and fish, which strengthen the bones and muscles. Lastly, Glow Foods are fruits and veggies, like cabbage and banana, which boost our immunity.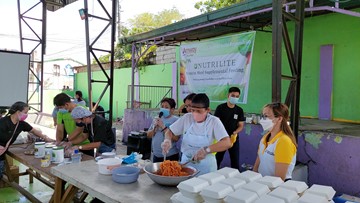 After the event, the first set of meal packs were distributed to the children and their companions. They also received Nutrilite™ All Plant Protein Powder, which they can use to create nutritious meals for their families. It also gives them a chance to try the demonstrated recipes at home.
Aside from providing healthy meals to kids, we also include nutrition education and livelihood training for the parents to make the nutrition campaign a sustainable enterprise.
In this manner, the guardians gain skills that can help them find employment, so they can sustain their children's needs. Upskilling coupled with lessons on healthy cooking can help ensure long-term results.